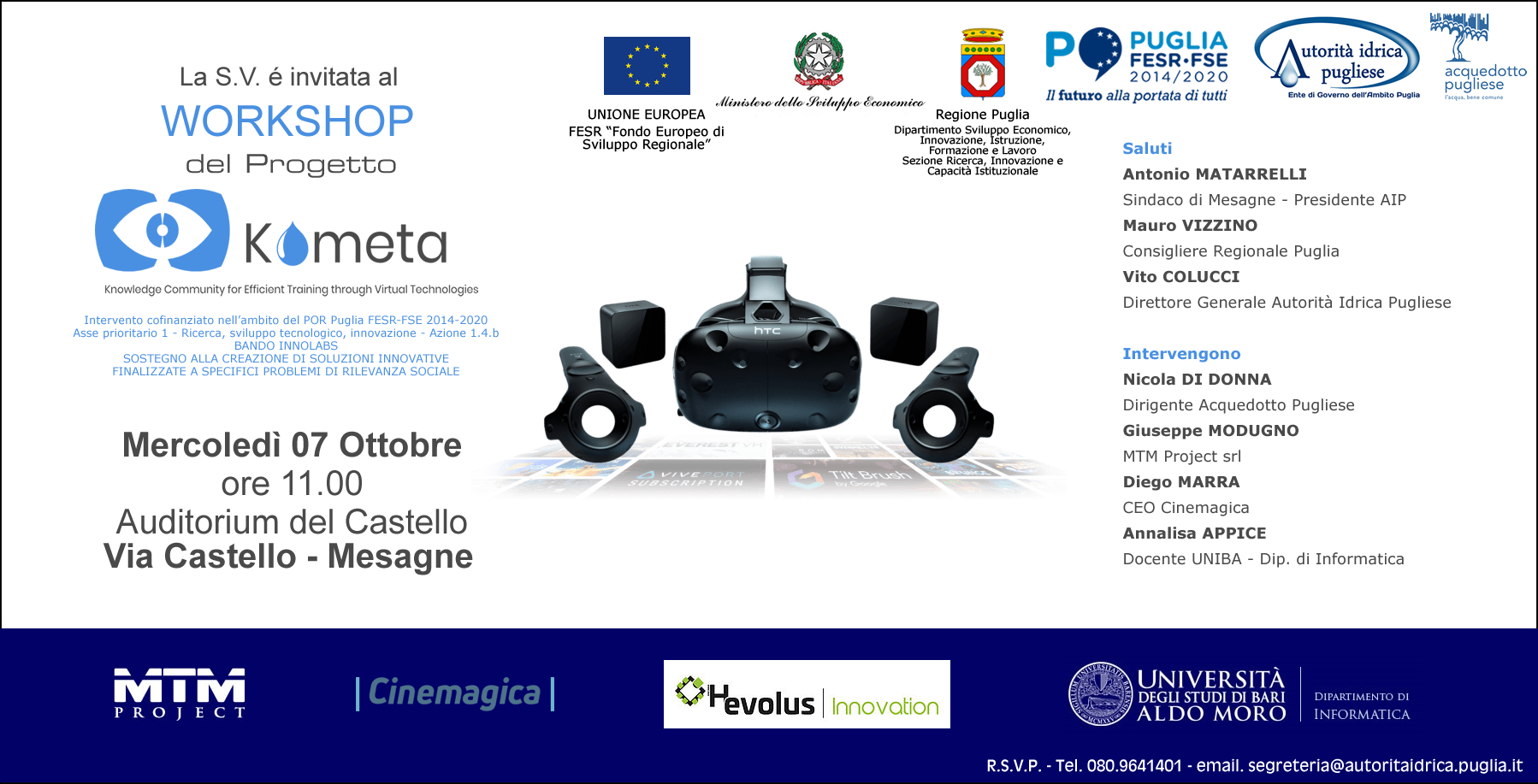 On Wednesday 7 October, at 11 am, in the city of Mesagne at the Auditorium del Castello in via Castello, a new training workshop of the Kometa (Knowledge Community for Efficient Training Through Virtual Technologies) project will take place in compliance with anti-covid regulations. , funded by the INNOLABS regional call, POR Puglia FESR FSE 2014-2020 - Sub-Action 1.4.B, and promoted by three SMEs (MTM Project srl as leader, Cinemagica srl, Hevolus srl), Acquedotto Pugliese spa, Apulian Water Authority and the 'University of Bari - Department of Computer Science.
After the stages held in the cities of Bari and Lecce - and the subsequent stop dictated by the epidemiological emergency covid-19 - now it is time for the explanatory and informative conference of the project scheduled at Mesagne, Municipal Administration which is part of the Authority's Board Apulian water supply.
Speakers for institutional greetings: Toni Matarrelli, president of the Board of Directors of the Apulian Water Authority and mayor of Mesagne; Mauro Vizzino, regional councilor and Vito Colucci, general manager of the Apulian Water Authority. The following speakers will illustrate the Kometa project in detail: Nicola Di Donna, manager of Acquedotto Pugliese; Giuseppe Modugno of MTM Project srl; Diego Marra, CEO of Cinemagica and Annalisa Appice, professor at Uniba - Department of Informatics.
The Kometa project is based on the use of innovative technologies, such as virtual reality, immersive and machine learning, for new methods of training the maintenance personnel of water distribution and wastewater treatment plants, with the aim of speeding up the analysis and fault recovery times, allowing greater savings, an increase in functionality and an increase in the quality level for what concerns the Integrated Water Service.
The innovative method aims to shorten the training times for plant maintenance operators, thanks to a virtual simulator that exploits the benefits of immersive reality. The operator, in fact, wearing a virtual reality viewer finds himself "immersed" in the reality of the systems and can interact with the environment itself in which the maneuver performed by other operators is taking place.